Hilal & Associates' Profile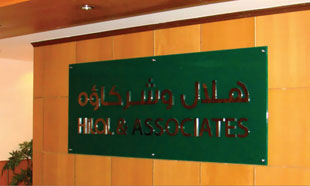 Hilal and Associates, one of the oldest and leading law firms in the U.A.E. (formerly known as A. R. Hilal & Associates), officially came into existence with the opening of its Abu Dhabi office on the 10th of January 1978. Started by Mr. Abdullah Rashid Hilal, the firm has grown steadily and rapidly since then. The Sharjah office was established in 1979, one year later a Dubai office came into existence, and in 1981 another office in Umm Al Qaiwain was opened. In 1991, the firm established its office in Ras Al Khaimah.
Seeking development, growth, and excellence in providing services and utilizing the best of experience in the five offices, partners in the firm have decided effective from January 2003 to merge all offices under one administration and one head office, namely Dubai office and to change the firm name to HILAL & ASSOCIATES.
Such organizational and administrative shifts in the vision have benefited the firm and its valued clients in many different ways.
One of the reasons for the firm's rise to influence in the U.A.E legal community is the diversity of its members' backgrounds. We have lawyers who have worked in the legislature, with foreign law firms, universities and academia and the business world. This diversity enables our firm to provide quality legal services for clients from diverse backgrounds and with varied needs.
We place great emphasis on attending to the client's specific requirements. The depth and experience of our legal and human resources is well known and our clients regularly turn to us to handle their complex transactions and avail of our expertise. In the course of providing top of the line set of legal and consultation services, we have been able to build an impressive client list including private and semi-public organizations, banks, statutory corporations, commercial and trading companies, insurance companies, airlines, and individuals.
We, at Hilal & Associates, see the law as a vehicle for social change, including righting wrongs; and our role as lawyers and as effective advocates, working along with our valued clients for a just result and a fair chance for all. We enjoy the privilege of cooperating and coordinating with different correspondent law firms all over the world.